1% for the Planet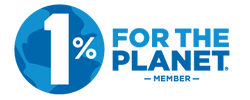 1% for the Planet
is a global movement inspiring businesses and individuals to support environmental solutions through annual membership and everyday actions.
Members commit to donate a certified minimum 1% of annual revenue to one or more not-for-profit organisations committed to protecting and restoring the environment.
UltraBritain believes at a time when our impact on the environment has never been so great, those able to contribute to the mitigation of that impact have a duty to do their bit.