Santa's Advent Challenger
The deadline for entering this event has passed
1st December - 24th December 2021
Virtual
Taking part?
sign in
to your UltraBritain account
Santa's Advent Challenger

Prize Draw Update
We ran a lottery draw for prizes of two gift hampers from Wellbox and two £20 vouchers redeemable against future UltraBritain events..
The numbers drawn were:
916 29 103 660
Which means the lucky winners of the hampers are
Fiona Maddock and Kathryn Smith
..and the vouchers will be going to
Jacqui Hall and Hannah Martin
--------------------------------------------------------------------------------------------------------
We have a different challenge for you in the run up to Christmas this year.
Rather than set a mile/km target over the month, for this challenge we want you to get some exercise in every day from the 1st to the 24th December.
By default any distance achieved each day is sufficient to keep you in the exercise each day hunt but if you wish, you can set yourself a daily goal (in kilometres) that you'll aim to achieve each day during advent.
You can walk, run, hike, ride, swim or any combination of those, any number of times during the day to make up your total.
We're helping to raise vital funds for The Trussell Trust - every entry donates £1 to the charity and if you prefer, you can exchange your finisher's medal for a bigger donation to the Trust.
As it's Christmas, we're also running a prize draw and to give everyone a chance of winning, there's a side challenge.
It's based on the old game of
Battleships
(I wish we could have come up with a Christmassy twist on the name, but so far - no, we haven't!).
Our graffitti artist has drawn 5 Santas and his reindeer on a wall and they've been covered up with snow.
Every day during advent that you complete your day's target, you'll get two shots with a snowball to knock off a chunk of that snow and try to find them.
Each piece of a sleigh you uncover gives you a ticket in the prize draw and you'll get a further three when you free a santa and all his reindeer. Draw prizes include hampers from WellBoxes who donate a meal to a local person in need with each hamper supplied.
There are other goodies in your board besides and everyone's board is unique, so no conferring!
Our event partners are also running virtual challenges over the Christmas period with different formats - you can take part in more than one event and you can count your activities across all events you're entered into.
How It Works
Choose your daily km goal in the entry form if you want to give yourself a specific goal, otherwise any distance logged will count as having achieved that day's task.
Find the day on the Advent Calendar - tap the day to reveal your total or to add manual activities.
Log your miles either automatically if you have a Garmin Connect or Strava account (see below) or it's very simple to do so manually.
When you meet or exceed your target for the day, you'll be given a couple of snowballs to aim at our wall to try and find the hidden Santas and reindeer. You can save these up for use later in the month for a salvo if you want.
There is 1 Santa with 4 reindeer, 1 with 3 reindeer, 2 with 2 reindeer and 1 with just one.
Finding Santas and reindeers gives you tickets in the prize draw. You don't need to complete your challenge to take part ini the draw and the ticket format means everyone gets a chance rather than just the person clocking up the most distance.
Complete your target km every day for the 24 days of December up to Christmas Eve and we'll send you a custom medal.
If you'd prefer, you can choose donation instead and we will send the value to the Trussell Trust.
Logging Your Miles
Automated
You can connect either your Garmin Connect or Strava account s to this challenge and we will collect your activities automatically.
To connect, locate the green 'connect services' button under essential information. Click that, then choose either Strava or Garmin. Either will redirect you to that service to approve the link up.
We only request 'read' access and do not amend or create anything on either account.
Manual
Simply click the date on the advent calendar to open the door.
Tap again to view any km logged for that day or to add more.
Adding an activitiy is simply a matter of entering the distance covered. No proof is necessary.
About the Trussell Trust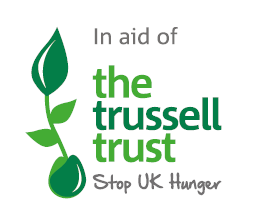 Our vision is for a UK without the need for food banks.
We rely on the generous support of individuals to be able to deliver our vital work. We're working to build a future where everyone can afford the essentials.
In the UK, more than 14 million people are living in poverty – including 4.5 million children.
Between 1 April 2020 and 31 March 2021, food banks in the Trussell Trust's UK wide network distributed 2.5 million emergency food parcels to people in crisis, a 33% increase on the previous year.
980,000 of these went to children. Compared to this time five years ago, need for food banks in our network has increased by 128%.
Essential Information
This event can record your activities automatically via Strava, Garmin Connect or Fitbit

Date:

1st December, 2021 to 24th December, 2021

Start Time:

00:00

Event Format

Virtual Event

Move every day during advent

Race Features

Awards

Solo Event