UK Virtual Challenges - JoGLE
1st February 2022 - 1st February 2024
Virtual Challenge based on John O'Groats to Land's End - choose your own start date and challenge duration
Take on our 1,400km Virtual John O'Groats to Land's End Challenge!

UK Virtual Challenges - John O'Groats to Lands End

This challenge is one of a UK series of 6 of varying distances based on some of our most iconic trails.
Close on 20,000 people have taken part in virtual challenges on UltraBritain why not join them and give yourself motivation to get outside and share your virtual trail with others from all over the world?
The JoGLE is a journey from the tip of Scotland at John O'Groats to the tip of Cornwall at Land's End. There are endless variations on the route and we have chosen a trail of 870 miles (c.1400km) and tour challenge is to complete the equivalent distance on foot in your own time and wherever you like.
You can also
take part as a team
, pooling your miles and sharing the journey.
Why sign up for a virtual challenge?
Past participants tell us they are motivated by having a goal to achieve and a simple way of tracking progress.
There's little better way to improve health and mental wellbeing than getting regular exercise - levels of which have actually fallen since the pandemic.
These events are inclusive - you can cover a few hundred metres at a time or tens of miles; it all counts. You can take part in your own time and wherever you like and set your own targets and pace.
The environmental impact is tiny and we hope that some on-foot miles may replace those that otherwise might have been in a car - more than half of all car journeys are just a handful of miles in length.
Supporting the Real Trail
We donate a pound from every entry to the Association that maintains the South West Coast Path. These bodies run on a shoestring, are largely made up of volunteers and have a hugely important role in protecting the trail from erosion and other obstacles.
The South West Coast Path is on the front line of climate change and is eroding at an alarming rate.
UltraBritain is a 1% For The Planet member and as such we also donate a minimum of 1% of all revenues so your taking part benefits these priceless resources in two ways!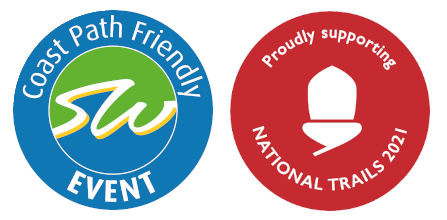 How It Works
Pick your start date and how many days you want your challenge to run within the entry form.
Here's a handy tool to work out just what you're committing to! Select your start date and the number of days (it defaults to 60, but you can change this to anything)
We count
all your on-foot activities
- walking, hiking, running, treadmill - and you can either log them automatically if you have any of a Strava, Garmin or Fitbit account, or manually if you prefer.
We'll show your progress along the route on our live map and let you know how you're doing against your goal with your own virtual pacer to keep you on track!
You can personalise your marker on the map too - we'll use your avatar if you have one. Go to
My Account -> Personal Details
to update yours.
AWARDS
Reach the finish and we'll award you our special medal and our new Climate-change themed bandana.
Our medals are made from pure aluminium, chosen because the metal can be endlessly recyclable without degradation.
Alternatively if you prefer, exchange those awards for your very own Trees Not Tees tree. TNT plants native trees in their managed forests in Scotland to absorb CO2 from the atmosphere and will email you a personal ownership certificate including both a photo and exact location of your tree.
You'll receive a weekly email showing how far you've got and what you have left to do.
We'll send you a real postcard from the trail when you've passed the halfway mark.
Teams
You can complete the trail as a team - why not get your friends or family involved?
To create a team, or join an existing one, once you have entered, find the event ticket in
your account
and tap the 'team' tab.
If you take part as a team, all team members' miles are added together to count towards the target miles.
DEPENDENTS
You can sign up on behalf of your dependents and log miles on their behalf. Dependents don't need an email account.
So
sign up today
and motivate yourself to keep exercising and achieve something special!
Essential Information
This event can record your activities automatically via Strava, Garmin Connect or Fitbit

Date:

1st February, 2022 to 1st February, 2024

Start Time:

00:00

Event Format

Virtual Event

870 miles (1400km) in a time limit of your choice

Downloadable Files