Virtual National Trails - SWCP South
The deadline for entering this event has passed
1st July - 31st July 2021
Virtual challenge covering the South West Coast Path - South Section
Virtual National Trails - South West Coast Path SOUth
We're spending May, June and July covering our 4th National Trail - the stunning South West Coast path.
Three months because the entire trail is 630 miles stretching from Minehead round to South Haven Point and in real life gains around 35,000 metres of total climb.
This is our final month on the South West Coast Path and you'll be taking on a challenge between Plymouth and South Haven Point.
At the same time, help the environment as we donate to the National Trails for each entry and at least 1% of all UltraBritain's revenues are donated to non-profit environmantal groups.
The SWCP is very exposed to the effects of the changing climate and recently considerable
stretches of cliff collapsed into the sea
, so maintenance of the path is a constant battle with limited resources.
Your entry into these events directly supports the trail as we donate £1 from each to the organisation of largely volunteers that keep these fantastic resources open.
You have 4 options to choose from to complete on foot during the month.
Plymouth to Dartmouth (66 miles / 106km - 3.42km per day)
Plymouth to Exmouth (104 miles / 167km - 5.4km per day)
Plymouth to Abbotsbury ( 154 miles / 248km - 8km per day)
Plymouth to South Haven Point ( 220 miles / 354km - 11.4km per day)
Don't worry if you find you're ahead of pace (we're bringing back the pace rabbit) or indeed behind because of life circumstances.. you can switch routes right up until the 15th July. Simply edit your entry form in My Account.
Awards
We'll send you a custom medal on completion of your Challenge, as well as a postcard from the trail featuring your personal stats plus a downloadable certificate.
If you prefer, you can receive a Trees Not Tees tree instead of your medal
Enter and complete all three SWCP challenges aand we'll send you a special medal
Recording your miles
As always, you can log your miles either automatically with Strava or manually.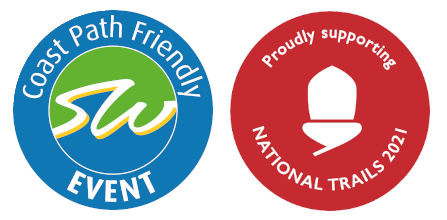 Essential Information
This event can record your activities automatically via Strava, Garmin Connect or Fitbit

Date:

1st July, 2021 to 31st July, 2021

Start Time:

00:00

Event Format

Virtual Event