Virtual National Trails - North Norfolk Coast Path
The deadline for entering this event has passed
1st Sep 2021 - 30th Sep 2021
Run, Hike or Walk and virtually complete the Peddars Way and North Norfolk Coast Path - one of our National Trails - during September
Virtual National Trails - NORFOLK
Virtually run, walk or hike the Peddars Way and North Norfolk Coast Path with us during September.
The National Trail joins the Peddars Way and North Norfolk Coast Path for a combined 133 miles of spectacular scenery. We've added a further stretch down to Felixstowe for those of you who want a bigger challenge and can cover 200 miles in a month.
The Peddars way is an almost arrow-straight old Roman road from Knettishall Heath Country Park in Suffolk to the Norfolk coast at Holme Next the Sea. Then the coast path runs from Hunstanton around to Hopton-on-Sea, just past Great Yarmouth. That and our extra leg to Felixstowe will eventually form part of the all Engand Coast path which is currently.
We have four distances to choose from:
The Peddars Way - 80km (2.6km or about 1.6 miles per day)


Peddars plus the Coast Path down to Cromer - 150km (5km or 3.1 miles per day)


Peddars plus the entire Coast Path to Hopton - 215km (7.2km or 4.5 miles per day)


The entire trail to Felixtowe - 320km (10.7km or 6.6 miles per day)
Make your choice in the entry form
Next month
we have
a special Halloween Challenge
. You must escape from Britain's most haunted town - Pluckley - with a horde of the undead hot on your heels! It will a bit different!
Enter both events at the same time and save £5 off the entry price.
How does it work
All
walks, runs and hikes
count towards your total during the entire month. You can join in any time before the close of the 15th September and backdate any activities from the 1st of the month.
Register your miles either manually or with Strava (a free Strava account is all you need) and we'll plot your progress on our live map.
Changing Goal Distances
We allow you to switch routes up until the closing date of the event on the 15th September, so if you're finding you're crushing your challenge and want to push harder, or time constraints mean you can't put in the miles you'd hoped - no problem!
To do this, go to My Account -> Tickets and Entries. Click the 'entry form' tab under the ticket for the event and make your changes to your form.
Pacing Assistance
Your map includes a pace rabbit - it'll set off at the exact speed needed to complete your challenge at midnight on September 30th so try to stay ahead of it! The map will also tell you how far ahead or behind pace you are and how many km/mi per day you need to complete from that point onwards.
A DONATION TO THE TRAIL IS INCLUDED
Our National Trails are priceless resources take a huge amount of maintenance, which relies on an army of volunteers and never-ending battles for scarce budgets.
We donate £1.15 from each entry to the National Trails to help support their upkeep and make sure they are available for us and future generations. That may sound like an odd number - but there's a £1 contribution made per entry directly, plus, as a
1% for the Planet
Member, we additionally donate a minimum of 1% of our entire business revenue.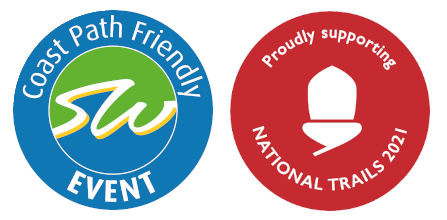 Awards
It's important to us that we support local businesses and reduce the environmental impact of our events as far as possible.
Complete your challenge and we'll send you a bespoke, wooden medal to commemorate your achievement. We choose wood because we can source sustainable materials whereas a metal medal is made from base metals with no scrap resale value so these ultimately end up in landfill.
We will also send you a real postcard through the mail featuring a stunning shot from the trail with your challenge achievements on the back, and you can download a certificate for the fridge door from the UltraBritain site post-event.
We're proud to be supported by our local sports store -
Apex Sports
- who are offering all entrants a very generous 15% off all non-sale items (we will send you a discount code with your joining instructions).
You can recoup the price of this event with the savings from a single pair of shoes!
Important : Apex are currently only shipping to UK addresses
We're also proud to partner with
Trees Not Tees
who plant native trees in their managed forests in Scotland to offset CO2. If you don't want a medal posted out to you, you can exchange it for your very own tree!
Trees Not Tees will email you a certificate of ownership, a photo of your sapling tree and even the exact location in what3words format. You can even go and visit! This is a fantastic way of doing something positive for the environment and we'll add your tree to the event map and also to your own copse within our
virtual forest
.
You will need to complete your challenge to receive a medal. If you have opted for a tree, one will be planted for you whether or not you complete the challenge.
Awards will be posted out around the 8th October to allow time for everyone to log their final miles.
Logging Your Miles
It's very simple to record miles either manually, or automatically if you use Strava.
With Strava
You need a free Strava account
Below the map on this page find the orange 'connect with Strava' button
Click that and you'll be taken to Strava to approve the connection
That's it!
Note that - we request read-only access to your Strava account which means that we cannot write to your page and we can only read public activities from public accounts. Ensure your activities are recorded as one of 'hike', 'walk', 'run' or 'virtualrun'. It may take up to an hour to collect your data from Strava and update the leaderboard.
Logging Manually
Log in to your Ultrabritain account and return to this page
Above the map you will find a blue 'Your Activities' button
Click that and a popup will show all activities we've recorded for you to date and let you log more
Recording is simply a matter of clicking the date on a calendar and entering the distance in either km or miles
You will have up until the 7th October to log miles accrued between the 1st and 30th of September.
Essential Information

This event takes a feed from your Strava data

Date:

1st September, 2021 to 30th September, 2021

Start Time:

00:00

Event Format

Virtual Event

Virtual Challenge set on the Norfolk Coast